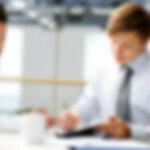 We work closely with you to understand your goals and aims, and then develop a new business plan
Does your company require emergent assistance with IT related issues?
Our wide scope of expertise allows us to help miscellaneous types of businesses in any given niche, regardless of it being a software or a hardware failure issue…
Whom can we help and how much do we charge?
There is no obligation to continue working with us after we have provided emergency assistance, although many clients have continued to retain our services!
What do we class as an IT emergency?
Network connectivity failure
Server failure
Hardware failure
Security breach
Data loss